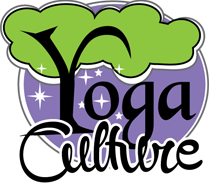 Teacher Training
---
Starts April 2017!
Teacher Training: A 200 Hour Program in accordance with Yoga Alliance

Our Mission for Teacher Training is to create skillful practitioners and instructors in an easy-going atmosphere.

In Teacher Training, you will:
DIG

into YOGA HISTORY to discover the origins of today's practice.

WANDER

through your inner self as you study YOGA PHILOSOPHY.

PRACTICE, WORK and EXPLORE

ASANA (physical poses). Study in depth the alignment of postures appropriate for your body.

BUILD

intelligent and clear class SEQUENCES for all levels of experience.

STAND TALL

as you learn to communicate information to others in practice TEACHING.

DISSECT

actions and observe muscle engagement as you delve into ANATOMY for Yoga.

NAVIGATE

the subtle body, including CHAKRAS and NADIS.

WITNESS

the breath and mind through PRANAYAMA and MEDITATION.

BACKPACK

through an introduction to SANSKRIT, the ancient language of yoga.
Learn to

MANAGE

yourself and your students in the BUSINESS and ETHICS of yoga.
Because we are a Yoga Alliance Registered Yoga School (RYS), completion of this training will allow you to obtain a 200-hour RYT certification with Yoga Alliance.
Check out our FAQ to see answers to commonly asked questions about the training. If you have any other questions, email at Info@WeAreYogaCulture.com.

Dates:
April 8 - Aug 12, 2017
Every other weekend, with adjustments for holidays. See exact dates below.

Times:
Weekends 1-6:
Sat 10am-4:30pm, Sun 9:30am-4pm
Weekends 8-10
Fri 6-9pm, plus Sat and Sun

Sample Weekend Schedule

Exact dates of the 2017 Training:
Apr 8-9
Apr 22-23
May 6-7
May 20-21
Jun 3-4
Jun 17-18
Jul 8-9
Jul 21-23
Aug 4-6
Aug 11-12

If you are unable to attend a day of training, you will be required to make up the session with a two-hour private lesson at $100/hour. You can make up a total of four days.

Applications: We are currently accepting applications for the 2017 200-hour program. Go here for the application. Please email us the completed application to info@WeAreYogaCulture.com.

Either send or leave at the desk a check for $200 non-refundable deposit to Yoga Culture, 105 Mill Plain Rd, Danbury, CT 06811. This deposit holds your spot in the training. If you are not accepted into the program, your check will not be cashed and will be returned to you.

Tuition: $2,900
Early Bird: $2,700 if 1st payment ($1,500 +tax = $1,595.25) paid by 3/9/17 and balance paid by 4/8/17
Please note that tax is added to all fees and payments.
If you have been accepted, go here to make your first payment. Choose 'Teacher Training 1st Payment' in the dropdown menu.

Early Bird Payment Plan:
$1,500 by 3/9/2017, $1,200 by 4/8/2017 ($2,700 total)

Tuition is due in full by 4/8/2017

Requirements of the training:

• Attend all teacher training sessions.
• Attend three classes/week during training (included in tuition).
• Homework assignments, written and practical exams.
• Required reading.
• Karma Yoga (giving it away for free).
• Keep a practice journal.
• You must be able to fulfill all of the above requirements to complete your certification and receive your diploma.

Required Reading:

Light on Yoga, BKS Iyengar
The Heart of Yoga, TKV Desikachar
The Yoga Sutras of Patanjali, translated by Edwin Bryant
The Anatomy of Movement, by Blandine Calais-Germain
The Bhagavad Gita, translated by Eknath Easwaran

All these books are available at Amazon.com.
Faculty Bios
Jenny Schuck
Jenny Schuck has an extensive background in study of the physical body. She spent 16 years as a gymnast, eventually competing for Cornell University, then 10 years as a dancer before coming to yoga. Her study of the physical became cell-deep during her studies in Biology and Biochemistry at Cornell, where she obtained a B.S. in Animal Science, and the University of Pennsylvania, where she studied veterinary medicine before her path turned in a different direction.
At The Actors Center in New York City and in countless dusty theaters, Jenny studied movement of the body as it pertains to acting. It was in New York during her acting and dancing phase that she tried yoga out of mere interest. Years later, she decided to teach and received her training at Yoga to the People, a funky 100% donation-based studio in New York's East Village. Her main teacher was Sam Chase. Since her training, Jenny has studied with a number of teachers who speak to her through nuanced alignment instruction within the vinyasa yoga practice. These teachers include Rodney Yee and Natasha Rizopoulos.
Founding Yoga Culture was her way of bringing this style of yoga to the people. Jenny's home practice informs her teaching, as she spends hours a day on her mat figuring out how to align, open and truly change. Whatever she figures out, she shares.

Allison Schleck
Fascinated by the intricate relationship between the mind and body, Allison has studied and taught yoga as well as other mind-body work for several years. She began as a gymnast at the age of 5 and in her teens dived into the world of martial arts. Following her passion of language, Allison moved to Costa Rica where she worked for the Arias Foundation for Peace and Human Progress, became fluent in Spanish, wrote content for several websites and received her 3rd degree black belt. The journey had just begun when she stepped into her first yoga teacher training in NYC at Sonic Yoga and knew that her heart aligned with the principles of yoga.

Years later equipped with a dedicated yoga and meditation practice, Allison found her home at Yoga Culture in Danbury, CT. Here she was able to refine her skills as a yoga teacher focusing on using the nuances of language to instruct students clearly and purposefully. Allison continues to study yoga and anatomy with Jenny Schuck, Jason Crandell, Carrie Owerko and Jason Brown. Allison's teachings are a reflection of what she learns practicing daily on her mat coupled with the yoga she experiences all around her in life.

In addition to teaching at and managing the Yoga Culture studio, Allison contributes as a writer regularly to Yoga International and has released an MP3 Yoga Nidra Meditations to Relax and Move Forward.
What surprised you most about TT? (answers from past grads)
I feel I've become more like the person I always wanted to be - more accepting of myself and others. I look for and find joy everywhere.

Taking yoga classes is great, but doesn't compare to the immersion-like training one receives during TT.

The more I learned, the more I wanted to know. The harder it got, the stronger I became. The further I was coaxed out of my comfort zone, the braver I became.

Me, meet Me deep.

I realized that I am capable of recognizing how to make myself happy.

My notion of Yoga drastically changed ... better yet, evolved.

My yoga practice went from just physical activity to a way of life.

Through yoga, your heart grows and kindness and compassion shine through.

Training sessions inspired critical thinking and self-evaluation. The teacher training helped to make Yoga make more sense!

With the support and preparation received throughout the training, I felt prepared to teach.