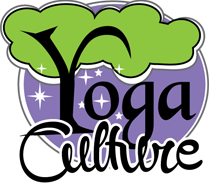 Our Mission
is for everyone to do yoga. Everyone.
And so we aim to be the most accessible yoga studio. First and foremost, we are so darn welcoming. You'll see friendly faces from the moment you go through the door. Friendly yoga students taking off their shoes, a friendly front desk staff to show you around and sign you up for class, a friendly teacher to learn your name and teach you yoga. Our managers are friendly, heck even Jenny, the studio owner, is pretty cool.
Read on and on for reasons our beloved Yoga Culture is a place for you to do yoga.
Our Wonderfilled Space - The Studio
Our studio is fun and colorful. And there are cubbies for your things!
Our studio is not heated beyond normal. We are room temp yogis.
Our location is convenient and highly accessible, just off the highway and near Trader Joe's and Starbucks.
We have the world's only (as far as we know) Animal Cracker Lounge - a waiting area with yoga books and community boards, and you guessed it, animal crackers, to keep you interested and always learning more, plus a nosh in case you need it.
We're a no cell phone zone. You won't see iPads and phones before, or during (!), class. We ask students to silence their phones and leave them in their cars or the cubbies. Students who are on call for work should speak to the teacher for instructions on how to handle.
Rock It - The Music
We play mainstream pop/rock/folk music in all our classes to make you feel at home and to bring cohesiveness to the class environment. We're all in this together.
You Can Weave It into Your Life - The Schedule and Offerings
We hold 26 yoga classes a week - and counting. You can fit yoga into your schedule. We delineate our classes by level and we spread the levels out through the week so you can attend classes on a regular basis, even a daily one if you choose. We encourage you to take two levels at once, the one you feel comfortable in and the one that challenges you a little bit more. This gives you a balanced practice.
We hold Workshops to offer you opportunities to delve deeper into learning various aspects of the yoga practice.
We have Semi-Private Lessons - bringing individual attention to you at a low price point.
We host Teacher Training once a year - for students who want to learn to teach or go deeper in their yoga practice. We schedule training days every other weekend, which fits into most work schedules, making the training most accessible. We hold it in the warmer months so we don't have to cancel for snow.
You Can Afford It - The Prices
Unlimited yoga for $89 a month. At our recommended 4 classes per week, that's $5.56 per class. Boom.
You can rent a mat for only $1. Or you can bring your own.
Almost free - We hold classes at Tarrywile Park in the summer for a $5 donation. All proceeds go to the park. Over the years 2011-2015, we donated $6,460.
An Accessible, Profound, Uniform Curriculum - The Style
We teach a yoga style that pulls the best from the major lineages to achieve proper warm up and heat building before the more demanding poses. Then we study with extreme but not tedious attention to alignment.
We teach you how to do yoga. We tell you what to do with each part of your body as you come into a pose.
When you attend class, you know what you're getting into because our classes are set up by level and the poses for each level are uniform among all teachers.
We never call out a pose being introduced at that class level without explaining how to do it.
We teach actions repeatedly throughout a class so that the mind is focused on the necessary aspects of a pose before attempting it.
We instruct gentle and safe entry into and exit from poses, rather than coming up with the most intricate transitions for no apparent reason.
We teach simple but profound sequencing, so the body is prepared for whatever you'll be practicing.
We use props like nobody's business - at times to make a pose more accessible, to learn a pose, to support the body, to make the body work… I'm sure we'll come up with more reasons to use props.
We have clear class levels and a clear student pathway through the levels.
True Basics
Basics classes that include one or two Downward Facing Dogs or Planks and no Sun Salutations, so that students with shoulder or wrist injuries can take yoga class.
All students are asked to gather props and put them next to their mats.
We instruct how to use props - we give options and steps into poses.
Making it Easy - The Technology
We have an easy to use website with information about the studio, classes, directions and anything else you need to know about Yoga Culture. We have an email address for less obvious questions.
We have a highly intuitive software system and mobile app to sign up and even pay for classes online.
Taking It Easy - The Attitude
Everyone at Yoga Culture routes for everyone else. We are not pretentious or competitive. The students and teachers are as encouraging and realistic - like a bunch of great kindergarten teachers.
We're not so serious. The walls are blue and purple. There are stickers on the floor that says things like "You're so good looking" and "Don't you just love yoga?". We're light-hearted and there's a fun undertone to everything we do.
We have a good curve in our age spread.
We have a good gender ratio for a yoga studio. There are lots of guys here. But of course, there are mostly women.
We have become an amazing community! All you have to do is overhear our students chatting before class to know that. Just a heads up: you will likely end up in one of these chats during your first visit to our studio. There's no cliquey-ness here.
There is a palpable, great and lovely energy to our studio. It's the people who bring it. The walls are good at holding it.
No pretzels - We know you're here to fit yoga into your normal life. We don't encourage our yoga students to aspire to an overly flexible, impossible looking body. You won't see any pretzel poses or intimidating images in our marketing materials.
We give back - constantly. We hold at least one charity drive per month. Usually more. We are of service to others - far and near. We are an active member of the city of Danbury and the largest supporter of Tarrywile Park.
Everyone practices at their own level. Students are encouraged to challenge themselves, but within reason.
We strive to sprinkle in an "appropriate for the mainstream" amount of yoga philosophy. We want to honor the heritage and culture of yoga but without getting too heavy into chanting and spirituality.
Thanks for continuing to provide a fantastic environment for all of us. I really look forward to coming to class!

- Claire P.